Yes, indeed they are.
I needed to refresh the stock at my antiques booth,
so a couple of weekends ago, my daughter Anne and I hit up several house sales,
and picked up a washstand, ca. 1870, from a Craigslist posting.
(The washstand in our sunroom, awaiting
its beauty treatment. The top drawer is out.)
We stuffed the minivan; Anne has excellent packing skills.
But we had to pass up an Eastlake bed. That was painful.
A very BIG Eastlake bed, it was in excellent, gorgeous condition,
with rails,
and already converted to queen size. I know!
Why didn't we take it?
I negotiated the price from $275 to $100
-- it was the last day of the sale, and I was buying other things --
but when I stood next to the bed, and realized that it was taller than I,
and certainly wider than 48" . . . I knew I couldn't fit it into the minivan.
Dang.
But we got an adorable old cherry one-drawer stand, with uber-patina.
And an antique repair to its top.
(Please excuse the sneakers, dog toy, and vacuum in the picture.
Real life is messy sometimes. Or, always.)
Not a very professional fix-it job, and it may win the prize for
most
nails used in any furniture repair
ever
, but I just love it.
It cracks me up. It would have given my father fits.
Also in our house sale haul,
a wonderful old chestnut drop leaf table,
with three original leaves.
A rare bird, indeed.
The picking gods were with us that day. It has not just 3 leaves,
but a holder to keep them protected. I never saw one of those before.
It's possible I have lead a sheltered life.
Haha ... those are Howard's feet on the left; we were in the parking lot behind the shop,
delivering these things to the booth this past Sunday.
I have shrunk my booth down to 1/2 its former size,
so it was a tight fit
to get the new things tucked in. But we did.
The rustic little one-drawer stand sold today, one day after its arrival.
And someone put a "hold" on the drop leaf table.
Yup, house sales are my friends.
And ... I just noticed my giant handbag on the drop leaf table. Well, at least I didn't leave it there.
The house sale also netted us a nice sturdy country Windsor chair,
and
a sweet pine desk/vanity/hall table that needs a teensy bit of TLC
before it's ready for its closeup, Mr. DeMille.
Sunday was such a lovely day.
Maybe Howard and I should have had
lunch al fresco in the parking lot!
Side note: A couple of days after I got the washstand from a home in Chatham, NJ, I got an email from the owner; she had found the bail of one of the brasses in her garage. Did I want it? Yes! I was ready to hunt for a replacement. Instead ... this lovely lady mailed it to me. I know people worry about Craigslist dealings, but so far I have only met the very best people in my Craigslist purchases, or sales. Even the hermits. :-)
And it isn't much of a collage/mosaic that I've done, but even so ...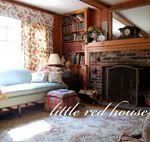 Confession: It's been SO LONG since I've done a blog party linkup that I forgot how.
True.
A mind really is a terrible thing to waste, isn't it? See you soon!