I am at my desk in the windowed Study nook,
brilliant sun in my eyes through the matchstick
blinds, and two dogs snor

ing

behind my chair

;
a

peaceful Tue

sday morning

.
But my computer keyboard has gone haywire on me, spelling
words such as "Emily" in this manner: Emiiillylyiim.
Really, truly,

I am not tipsy.

But perhaps my

keyboard is.
At any rate, this is going to be a post short on

words,
In fact, I pretty much need just one word: Tea

cups!
At That Old House, we got lotsa them. Here are some.
Colclough's Amaretto Rose:
Deep cobalt and gilt cups,

from Japan.
Aynsley

's Tatton Hall pattern:
Johnson Brother's Indies Blue:
Who hasn't bought Birthday Month tea cups?
This one, February, for daughter Alida.
And July, for daughter Anne

.
Wedgwood's Patrician ware, painted in the Bo

gnor pattern:
And except for the birthday cups, which I think we
bought years ago at

Disney World,
all of these tea cups were ferreted

out at flea markets,
thrift shops, Goodw

ill, or Ebay.
Pretty

and cheap. My favorite combination.
Go ahead, put the kettle on.
And invite me!

-- Cass
If we are lucky, someone else will do the cleanup!
Sandi at Rose Chintz Cottage, and Tea Time Tuesday.
Click here!
Marty at A Stroll Thru Life -- it's Tabletop Tuesday.
Click here!
At Linda's Coastal Charm blog, it's Nifty Thrifty Tuesdays.
Click here!
Terri at Artful Affirmations is hosting Tea Cup Tuesday.
C
lick here!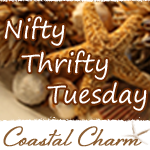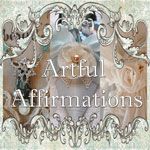 PS I think I managed to find all of the wacky keyboard typos and boo-boos.
Please excuse some spacing and other odd copy crazies -- it's the Keyboard, it's not me!