Well, here it is Saturday, and I dood it.
I posted something on the blog every day this week,
including this last one.
Of course, I have nothing to say today.
Used up, dried out, toss me into the trash bin.
Other than that, Welcome to That Old House!
*********************************************
Have you ever had the pleasure of visiting with Marty at her blog, A Stroll Thru Life? Well, you should . . . because on this post she writes about some great yard sale finds, including a couple of paintings that made our dog Dion DiPoochy sit up and take notice.
Dion, on his 12th birthday in March.
Dion, like the dogs in Marty's yard sale treasures,
is a Cavalier King Charles Spaniel.
Dion's breed has quite a history.
You know those Staffordshire spaniels the Victorians were so fond of? Yup.
Not Cocker Spaniels -- note the full, undocked tail.
Have you seen the movie Restoration?
About the reign of the Cavalier King, Charles II?
The 1995 movie with Robert Downey Jr, Sam Neill, and a hilariously miscast Meg Ryan?
Yes, those spaniels, the ones always swarming around Sam Neill's King. The real King was so
attached to his little dogs that he let them have their litters in his bed. I love puppies, but I have my limits.
King Charles II, receiving a gift of a pineapple, with a couple of his spaniels at his feet.
Do you know what Queen Victoria did after her coronation?
She dashed home, changed her clothes, and gave her Cavalier spaniel Dash a bath!
In this shot from the movie Young Victoria, an adorable tri-color
Cavalier plays the role of Dash, the young queen's favorite pet.
And when Ronald and Nancy Reagan wanted a White House pet that would greet heads of state
and also travel well, their friends William and Pat Buckley steered them to their own favorite dogs.
Yup, you guessed it. Here's Rex.
Rex was a Blenheim Cavalier -- chestnut and white, like Dion.
Blenheim Cavaliers get their name from Blenheim Palace, the ancestral home of the Dukes of Marlborough,
and where Winston Churchill was born and raised.
The Duke of Marlborough was very fond of his small hunting spaniels.
The first Duke, John Churchill, perfected the chestnut and white coloration.
The first Duke of Marlborough -- note the little spaniel.
Image from 1start.com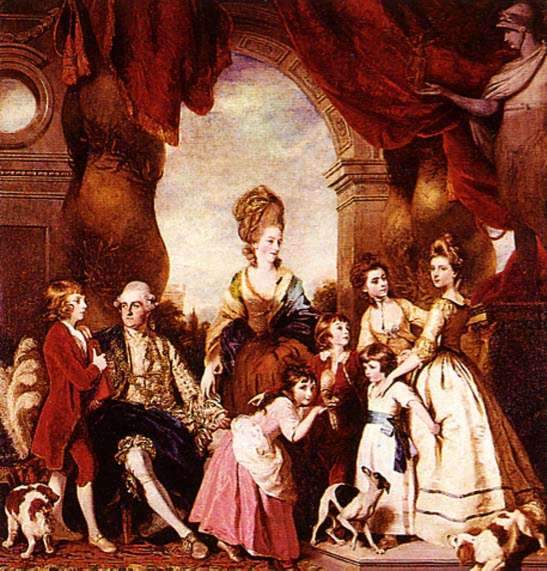 The 4th Duke of Marlborough, his family and his pets.
The 9th Duke of Marlborough -- the family pets remain the same!
In modern times, the Cavalier Club had its 2010 show at Blenheim Palace.
The legend about the Blenheim spot, or red mark, on the heads of the Blenheim Cavaliers is that Sarah Churchill,
the 1st Duchess of Marlborough, stroked the head of her Cavalier as the dog was in labor.
It calmed the dog, and it also calmed the Duchess who was anxious about the Duke's return from battle.
All five chestnut and white puppies were reportedly born with a spot on top of their heads --
a thumbprint where the Duchess had petted their mother -- you can just spot it on top of Rex's head --
and the name "Blenheim" has remained to distinguish this coloration of Cavalier.
The Blenheim spot is still considered a bonus in a puppy.
Dion has one, but it sort of slipped off to the back of his head!
Yes, these dogs love their people. Here, Rex greets his special folks.
But of course the good thing about dogs is, they don't care if you are a head of state,
or a chief cook and bottle washer.
Cavaliers, despite their history of hanging out with the rich and famous,
are just the same; they love pretty much everyone; they are not "one person" dogs.
They are known for their big eyes, soft expressions and soft personalities.
And for how well they decorate furniture.
And like most dogs, they are highly accomplished nappers.
Our Dion is pretty typical of the breed.
Long ears with lots of feathering are characteristic.
Cavaliers, unlike their Cocker spaniel relatives, are not trimmed.
Their leg feathering, long ears, and furry "slipper" feet should be left natural,
unmolested by scissors or clippers.
Dion, after a bath, of which he is not fond.
He is not the happiest of boys in this shot.
"Save me!"
We've owned Cavaliers for 16 years, two Blenheims and two black and white tri-colors.
I told Marty I'd buy the dog pictures from her and DOUBLE HER MONEY.
Gee, wonder why she didn't take me up on that offer? :-P
She could have made two bucks American!
I hope you enjoyed this brief explanation of the Cavalier King Charles Spaniel,
the little dog with the big name.
Have a wonderful weekend! -- Cass
****************************************
Other info:
Mary Queen of Scots also owned and loved a Cavalier spaniel,
but the story of that little dog's devotion is very touching and sad.
Some people call the Cavalier a "King Charles" spaniel. This is not quite right.
The
King Charles Spaniel
is a separate breed.
The King Charles is smaller, and has a pushed-in, quite flat face.
It became popular during Victorian times, and the longer-nosed Cavalier passed out of favor.
The smaller dog is the King Charles in the UK, and the English Toy Spaniel in the USA
and is called the
Charlie
for short,
as Dion's breed is called simply the
Cavalier
most of the time.