This isn't a pretty show-and-tell post.
Instead, it is a mystery tale.
Come and get your psychic on . . . .
When my girls were still in elementary school, I bought new
everyday stainless flatware, for 24.
Enough to feed a crowd.
It was made by Pfaltzgraff in the Addison pattern,
and was shiny, good looking 18/8 stainless.
It was on the table at most of our meals for years. And years.
When we moved to That Old House in 2008, it moved with us.
All 120 pieces of it, with maybe a spoon or two missing.
Then something odd happened.
By 2010, it was hard to find enough forks at dinner when we had guests. Or, sometimes, enough teaspoons for ice cream or fruit. Or even tea!
So I counted my flatware. Knives, soup spoons, salad forks - there were a few missing, but that can happen over long use. I guess. But teaspoons? I could only find 8.
And dinner forks? 6. Just 6.
The Pfaltzgraff Addison pattern is the top one, above. Isn't it pretty?
The larger fork is old hotel plate, bought at a rummage sale.
Only six dinner forks out of the original 24
.
What the ???
Yes, I am a casual housekeeper, but seriously . . . how careless and sloppy would I have to be to
misplace
18
big ol' dinner forks, and almost as many spoons?
I'm not that careless and sloppy.
Shut up, Howard.
I searched, re-counted, searched again.
But t

he Pfalzgraff flatware was

gone.
What happened?
At a party, a guest may mistakenly toss a piece of flatware in the trash.
But we had big parties at our last house without losses.
We don't have a food disposal,
so no grinding of forks and spoons by accident.
But wait! There's more!
In 2011, before our daughter's wedding, I ordered new flatware:
Reed & Barton Williamsburg Royal Scroll.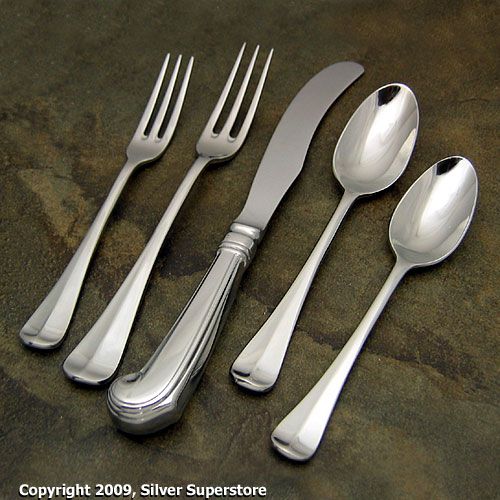 I ordered from The Silver Superstore, here. They had the best price.
(Not paid for the endorsement, it's just the truth.)
I fell in love with it years ago on a trip to Williamsburg.
But I didn't need it, and I couldn't afford it!
It's beautiful. Heavy, shiny, 18/10 stainless.
In 2011, I ordered service for 12.
The other day, I decided - just on a whim - to count my new flatware. And count it again. And again.
And guess what?
Two of the dinner forks and one of the teaspoons
have gone AWOL in the past 16 months.
I am not making this up.
Does That Old House have an insatiable appetite for flatware?
Do the ghosts who may or may not live here want forks and spoons
for their ghostly feasts? Do ghosts even do that?
Could it be the spirit of whomever wrote this on our cellar wall?
Can you read it? It says "Hunger." I noticed it a few months after we moved in.
Let's just say our cellar is not my favorite part of our dear house.
I do laundry in a dungeon.
Is someone trying to drive me bonkers, a la
Gaslight?
(Hint: driving me bonkers will be a very short roller coaster ride.)
This is wackier than socks that enter a clothes dryer as two,
and come sashaying out as one.
No one has ever solved that mystery, either...
Or, could I be such a hapless housekeeper
that I keep tossing them out or losing them myself?
That's the scariest option of all.
Any ideas?
By the way . . . in case you think I exaggerate the dungeon-like ambience of our cellar:
Really. Don't you expect to see iron shackles embedded in the walls,
and Edmond Dantes curled up in a corner?
Which would be OK if he irons. And uses a litter box.
Don't let any spooks steal your silverware; you need it for your
table setting blog posts. And also to eat. -- Cass
Visit Marty at A Stroll Thru Life
for her popular linky party,
Table Top Tuesday.
Click here!
P. S. Flatware isn't the only stuff gone missing; That Old House seems to have purloined clothing at an alarming rate, both mine and Howard's. So she's a kleptomaniac and a cross-dresser.