So hands up, friends.
How many of you remember when this:
looked more like this:
Okay, so maybe not exactly like this, as this keyboard, above, is pre-1926.
You remember Smith Corona typewriters?
This one is from L.C. Smith -- before it merged with Corona.
A few weeks ago, I acquired this odd old typewriter
from a guy who had a car trunk full of them -- all sorts.
"I need to get rid of these," he said. "You want one? Two? Ten?"
He explained that he still had 65 old typewriters at home, and was tired of restoring them.
I took this wacky, gorgeous one, which is probably an office model that was used for ledger work.
To me, it looks like a piece of sculpture; it is art.
I have a long history with typewriters.
In fact, the best thing I ever learned in high school was how to touch type.
It was on a manual typewriter, and I remember how my pinky fingers ached at first, using the shift keys.
Thank you, Mom, for insisting on that elective course, even though I didn't want to be a secretary.
The first time I spent more than one hundred dollars on something, I was 18, and I bought
a portable Smith Corona typewriter at Abraham & Straus department store.
I sprung for the electric, although I could not afford the extra ten bucks for the automatic return.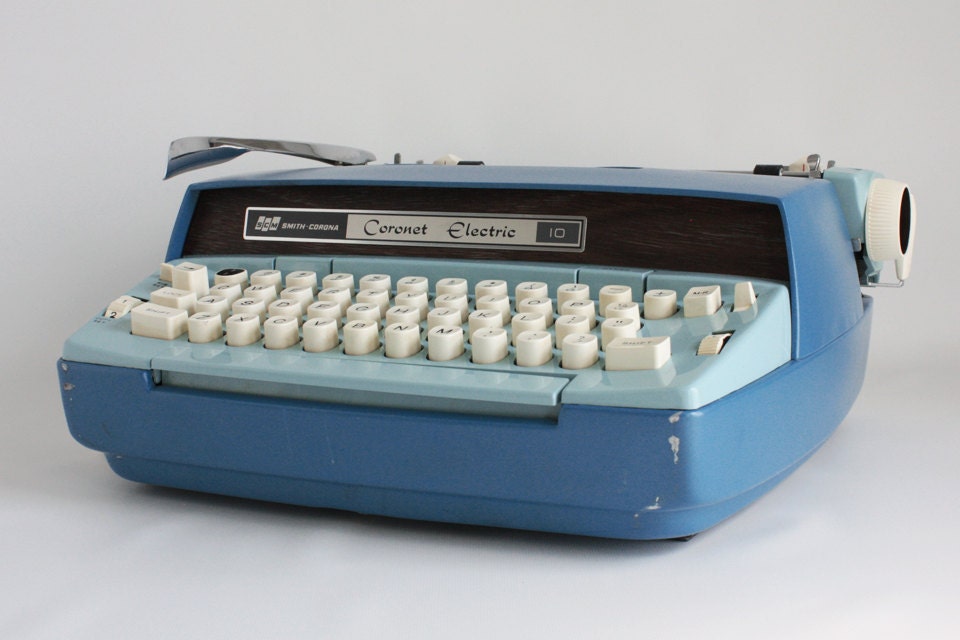 I met Howard when we were both sitting at manual typewriters in a radio newsroom,
and we conducted our early courtship with typed notes we left for one another.
Howard brought an big old hulking black Underwood manual to our marriage;
it sat on the counter at the store we owned for awhile in Pittsburgh,
and I banged out letters, menus, essays on that during quiet times.
I still have a stack of recipes I typed out on that Underwood.
They are squirreled away in the fold out desk of our dining room breakfront.
The ribbon had been recycled several times; our budget was very lean,
and cloth ribbons get lighter and lighter with each use.
Remembering XXX-ing out mistakes? Yeah, I had a lot of those;
my fingers always ran ahead of my brain,
which meant I was often unsticking keys that had jammed together because I typed too quickly.
Now why did I write out a recipe for Scalloped Rhubarb?
As I mentioned to Anne today as I was putting together this post,
typing gives you a more visceral connection to your writing than does a computer word processor.
In the same way, writing by hand is more immediate and personal than using a typewriter.
Would I go back to writing with a manual typewriter?
Word processing on a computer is like magic.
And I can always print out in
Courier
to fool myself that I've actually typed something.
To Mr. L.C. Smith and his Brothers,
thanks for the beautiful, wacky big typewriter that's going to sit on the radiator
next to my beautiful, wacky (and now old fashioned) desktop computer.
Computers may be faster, more efficient, labor saving and all that jazz,
but they are not as pretty as the old machines, are they?
For Howard and for me, typewriters hold a special place in our life.
Words bought our houses, put food on our table,
educated our daughters; words are how we made a living.
Years ago, Howard and I bought a big poster of an old typewriter
to remind us of our past.
It's next to the computer, maybe a reminder to me of real writing,
as opposed to the writing I do that floats off into the clouds and is so easily lost.
Now the poster will have a fierce old typewriter to keep it company.
Next week: Another typewriter culled from that car trunk.
This one will remind you of Hemingway . . . .
Have a lovely weekend!
-- Cass